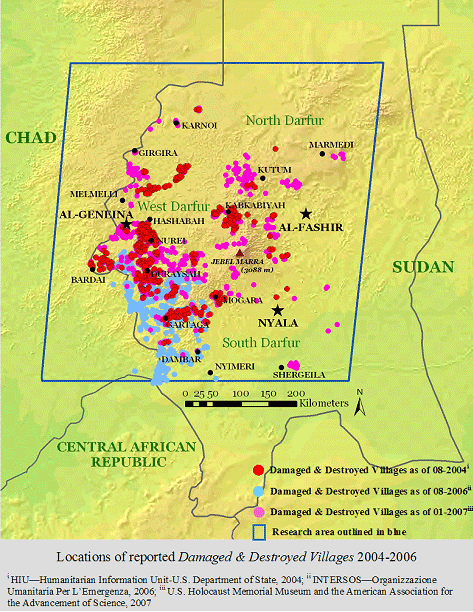 In May 2004, the U.N. High Commissioner for Human Rights issued the report Situation of human rights in the Darfur region of the Sudan.(1) Among its findings: there have been repeated attacks on civilians by the military forces of the Government of the Sudan and its proxy militia, the Janjawiid; the pattern of attacks on civilians includes killing, rape, pillage, looting of livestock, and destruction of property; and there has been massive, often forced, displacement of much of the population of Darfur. By early 2008, the U.N. estimated casualties in Darfur at 200,000 dead and 2.5 million displaced since 2003.(2)
Our findings show a steadily increasing return of natural vegetation coverage and vigor, likely grasses and shrubs, in formerly agrarian and livestock grazing ranges, since 2004. This environmental recovery is demonstrably not a result of increased rainfall, but of the abrupt change in land use directly related to the systematic violence committed by Sudanese government and militia forces against the peoples of Darfur. In an agriculture-based society, this vegetation rebound resulted from the loss of livestock and the inability to farm, caused by human displacement and the destruction of subsistence resources from 2003 to 2007.
Download Tracking the Genocide in Darfur: Population Displacement as Recorded by Remote Sensing.