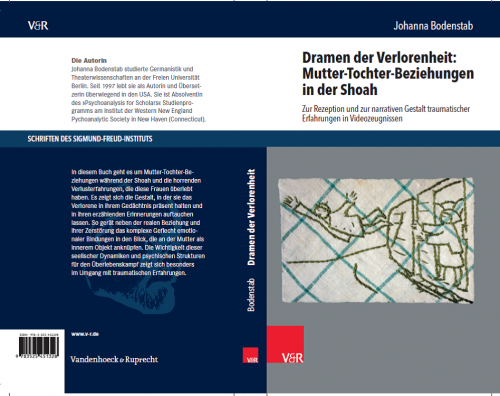 The Genocide Studies Program mourns the passing of Johanna Bodenstab, who succumbed to cancer of the heart on April 23, 2015.
Johanna, along with her husband, GSP Steering Committee member Dori Laub, was a pioneer in the study of the testimony by Holocaust survivors.    She often provided a soothing presence for those giving testimony about devastating trauma, as she assisted with interviewing survivors (often in conjunction with the Fortunoff Video Archives of Holocaust Testimonies, based at the Yale University Library).  Johanna brought a similar sensitivity to her academic work, which addressed the particular trauma experienced by women in the Holocaust, as well as in later generations of survivors.  She often focused in particular on mother-daughter relationships.  In 2015, the German press Vandenhoeck & Ruprecht published her first academic book, entitled Dramen der Verlorenheit: Mutter-Tocheter-Biziehungen in der Shoah (or Dramas of Loss: Mother-Daughter Relationships in the Shoah.)  Johanna also authored or co-authored (frequently with her husband) several academic articles.
Johanna was born in Germany in 1961, and came to the United States to stay in 1995.  She earned her Ph. D. at the Institute for Psychoanalysis at Kassel University in Germany, as well as an MA in literature from Freie University Berlin. She also graduated of the "Psychoanalysis for Scholars" program at the Western New England Institute for Psychoanalysis in New Haven, Connecticut (USA).
At Johanna's burial on April 26, she was repeatedly and universally remembered for her radiant personality, her generous spirit, and her sharp intellect.  Her presence will be greatly missed by the Genocide Studies Program.  The Program extends profound condolences to her surviving kin, especially Dori Laub.