MADE - Memorialization
Compared to the era when memorialization took the form either of a (typically large) physical public project, or a small, mostly private effort, digital storage and communication technologies – inclduing, principally, the internet – has changed almost every aspect of the memorialization of mass atrocities.  Memorialization is (often) produced by new and different actors than before; it is consumed in new and different ways, sometimes by very different audiences.  The MADE Initiative's Memorialization project aims to identify these changes and discuss their impact across several dimensions, from the personal to the political.
Events
Upcoming Events
  April 23, 2021: Mini-symposium on Digital Archives of Atrocity Memory (a MADE-Memorialization event)
          11:00-12:00 Christian Groh, Arolsen Archives
          1:30-3:00 Roundtable on "Digital Archive Curation"
          Featuring representatives from Remembering Srebrenica, the Rwanda Genocide Archive, and the Tuol Sleng Museum.
           Registration details coming soon.
Past events
"

Memorialization unmoored: The virtualization of material mediums of social memory" 

A GSP symposium

, March 8-9 2018
Output 
Mass Violence and Memory in the Digital Age: Memorialization Unmoored. Eve Zucker and David Simon, eds. (Palgrave, 2020)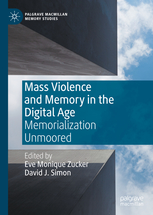 "Digital Memorialization for a Global Age" Eve Zucker and David Simon, YaleGlobal Online, June 25, 2020.